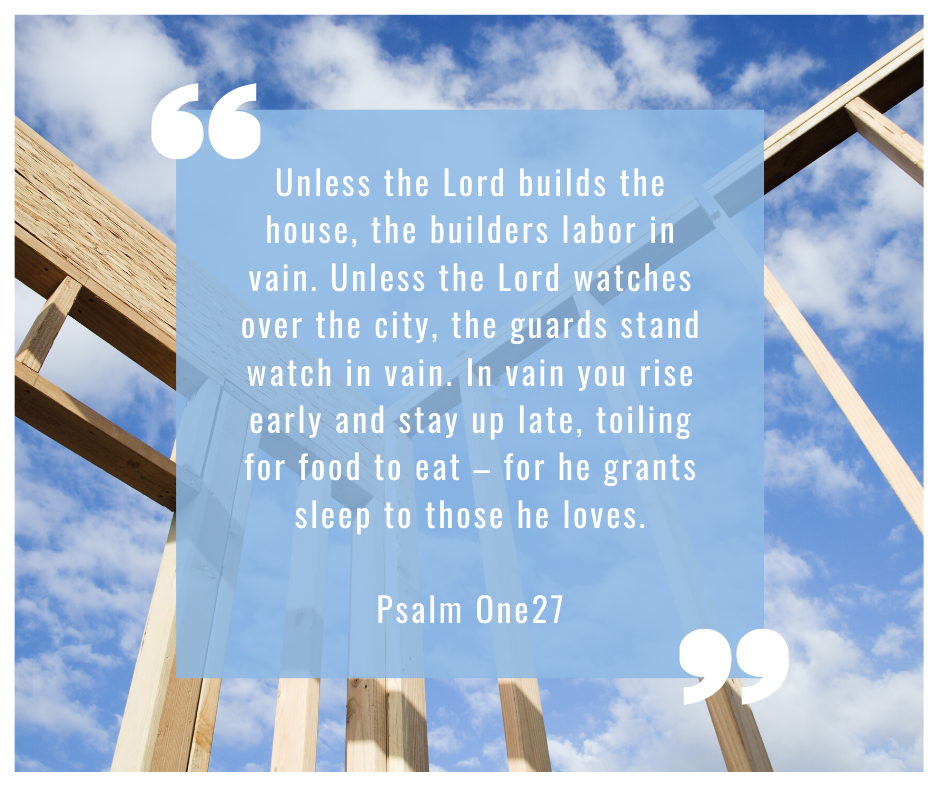 Our Story
We get a lot of questions about the name One27Homes.
We hate to break it to you, but it isn't an inside joke or Reid and Jaclyn's anniversary. Just ask us, and we will proudly tell you: We wear these numbers because seeing and hearing the One27 name each day serves as a reminder of what we believe and who we are. The name takes its inspiration from Psalm One27, a passage from the Old Testament pertaining to - you guessed it - building homes.

Psalm One27 was written for Solomon, a man known as a pretty smart and respected guy, one of the wisest to ever live. In spite of Solomon's vast knowledge, the verse directs him to look beyond his own understanding of business, finance, and industry, and to seek God's wisdom in every decision he made. Solomon's greatest achievements came in learning to find strength and blessing - not in himself, but in his God.
At One27Homes, we also strive daily to consider God's guidance in all that we do.
In naming our company after this psalm, we are hanging this reminder on our walls and on our hearts. A reminder that success, enjoyment, and blessings can only be found through Him. No matter how busy each day gets, we can be reminded to slow down and pray, and continue to weave our daily walks with God into our lives.
The assurance that we are in His hands gives us the perspective
to take a step back and admire what He has helped us build, bringing forth a contagious joy and passion that we hope we have the opportunity to pass on to you, as well.